Park Hotel Olimpia
TENNIS INTERNSHIP FOR ADULTS TO BRALLO
For over 30 years we have been organizing tennis weeks for all levels, combining sport, relaxation, nature and fun in the best possible way. High qualification internship for those who can't do without tennis: the best way to cultivate a great passion by meeting new people who share it. Tennis professionals will follow you step by step in learning, or perfecting, the technique of fundamental strokes, technique, tactics, single and double strategy.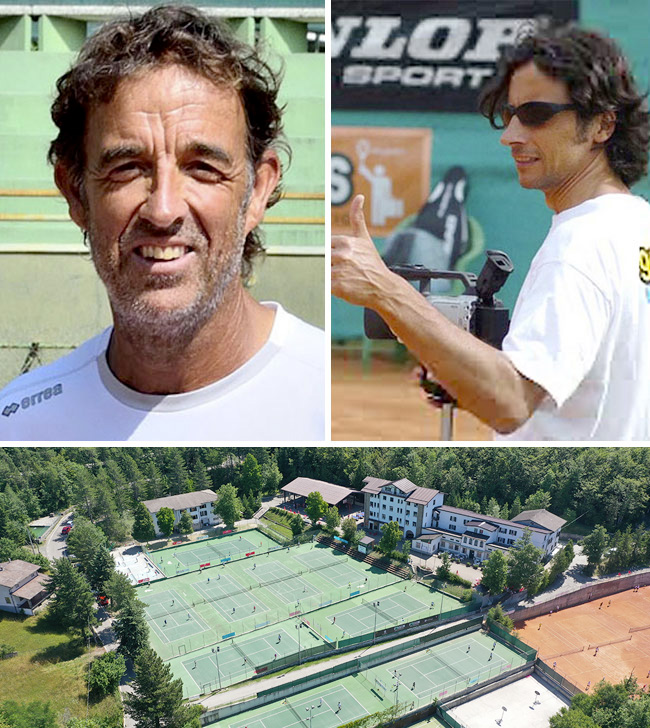 With the participation of the National Technician Roberto Catalucci as coordinator, the National Master Danilo Pizzorno as a video analyst and Gioele Salvadori as an expert in cognitive training.
It is a tool that allows you to analyze the same shot from multiple angles and with different speeds to highlight the detail that almost always escapes an analysis with the naked eye.
The student of any level takes great advantage of seeing himself on the screen, realizing postural aspects and becoming aware of sometimes unknown body patterns: the beginner accelerates the learning processes, the intermediate player and corrects mistakes and bad habits, the competitive player can correct the detail that can make the difference.
WHAT IS COGNITIVE TRAINING?
It is a visual / cognitive training that through virtual reality, visual panels and stroboscopic glasses, allows you to work on fundamental aspects of the game of tennis such as ocular fixation, peripheral vision and reactivity.
HOW DOES IT WORK
Discover all our proposals and offers