New for summer 2022
The PADEL FEVER broke out at the Park Hotel Olimpia
Park Hotel Olimpia
BRALLO PADEL CAMP
The BRALLO PADEL CAMP is a padel training course for adults, aimed at all those who want to get closer to the world of this sport, or to more experienced players who want to understand the technical secrets of special shots, such as for example the bandaja or the vibora, for move on to managing walls and tactical understanding of placements on the pitch.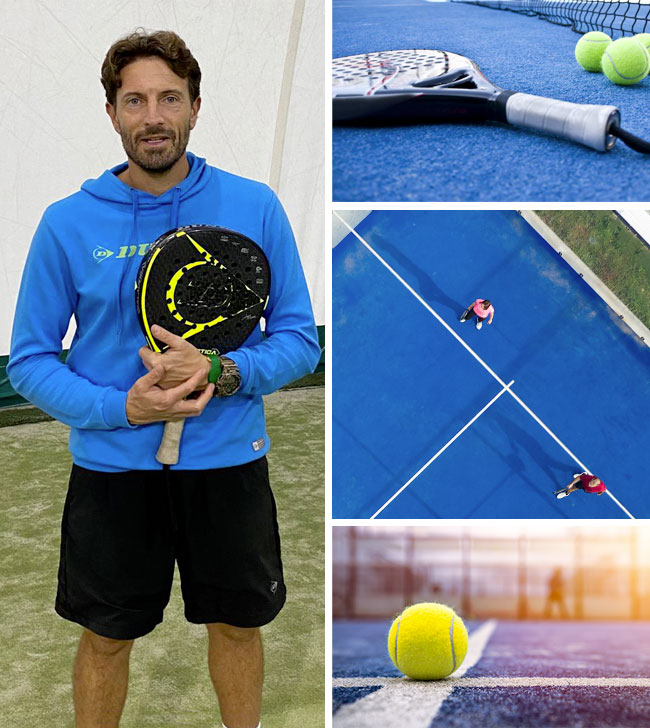 The courses, directed by the National Padel Fit Master Nicola Bini, are aimed at everyone and organized in such a way as to convey to the participants the basics and advanced aspects of this exciting discipline.
WHAT ARE THE FEATURES OF THE PADEL?
It is a tool that allows you to analyze the same shot from multiple angles and with different speeds to highlight the detail that almost always escapes an analysis with the naked eye. Students of any level benefit greatly from seeing themselves on the screen, realizing postural aspects and becoming aware of sometimes unknown body patterns.
THE OFFER OF THE PARK HOTEL OLIMPIA
From today, the offer of the Park Hotel Olimpia aimed at sports lovers gains an additional strength: the new panoramic padel court. Developed according to the needs of the most attentive players, it responds with particular attention to the surrounding landscape context. The camp is available to guests who wish to try their hand at this fun activity and during the two planned weeks, it will be the splendid location of the BRALLO PADEL CAMP.
HOW DOES IT WORK
Discover all our proposals and offers